Virtual Lactation Consultations
What to expect & how to prepare for your session
Part of our COVID-19 & Breastfeeding: What You Need To Know Series
Written by Heather Bingham, IBCLC and Jennifer B. Greenberg, M.Ed., IBCLC
A virtual lactation consultation is very much like an in-home lactation consultation except for the fact that you and the lactation consultant aren't in the same room and there won't be a hands-on assessment. However, there are many ways lactation consultants can help even when it's not possible to meet in person. Skilled lactation consultants can use props and visual aids to help with most breastfeeding issues. Some are even making highly sensitive scales available, which can be used to assess intake during feeds. Lining up a lactation consultant prior to your baby's birth makes it much easier to set up an appointment when you are in need.
The topics covered in your consultation will be individualized to meet your needs but may include many of the following:
COVID-19 knowledgeable support
Best practices for breastfeeding success
Supply concerns: Oversupply or Low Supply
Forceful Letdown, difficulty managing flow of milk or suck/swallow coordination
Comfortable Positioning: To avoid neck, shoulder, back and wrist pain
Latching: To ensure your comfort and optimize baby's efficiency
How to wake a sleepy baby
Infant Cues: How to determine when's the best time to begin a feeding, when to end, and signs that your baby is hungry or satisfied
Weighted feeds with sensitive scale (optional)
Proper use of breastfeeding tools e.g., shields
Bottle feeding support: help choosing an appropriate bottle and when to introduce
Planning a Return Back to Work: Pumping frequency, storage of milk, etc.
Pump use and flange fitting: Learning how to effectively use your pump to maximize milk output
Evidence-based information on medications and breastfeeding
Milk storage guidelines
Creating a plan that is manageable while working towards your feeding goals
Anatomical assessments for oral function, glandular tissue, etc.
Tricks of the trade
Lactation consultants are skilled at using a variety of tools to support breastfeeding when they can't see you in person. Many lactation consultants have years of experience with phone support and online counseling.
| | |
| --- | --- |
| Props | Dolls, demonstration breasts, nipple shields, supplemental feeders, bottles, and breast pumps are often on hand during a consultation. Dolls can be remarkably helpful for latch and positioning, allowing you to see techniques up close and in slow motion on video. Bottles can be used for demonstrating ideal bottle-feeding techniques and for help with bottle refusing babies. |
| Intake Assesments | Your lactation consultant may be able to provide you with a sensitive scale to be used during your visit, which can accurately assess the amount of milk the baby receives at the breast. These sensitive scales can detect differences in weights of as little as .1 ounces (2-3 ml.) This is incredibly helpful for creating a care plan to help optimize feeding on the breast and solid weight gain. Knowing what the baby takes at the breast makes it easier to know whether additional supplementation is needed and allows you to fine-tune the amount given at each feed. |
| Videos & Photos | In some cases, you may want to take a video of your baby to show the lactation consultant during or after the visit. This is a great way to catch something that may not come up in the visit. You can also capture a video of something that is working well during the visit, as a reminder of how a latch or position looked, so you can recreate it again on your own. |
| Special Tools | In some cases, your lactation consultant may be able to provide you with tools like nipple shields, supplemental feeders, or breast pump flanges so you don't have to wait for them to arrive by mail or make a trip to the store. |
| Individualized Care Plans, Tipsheets, & other resources | Most lactation consultants have links and videos they can provide to reinforce what you learn in the consultation. They will also send you an individualized care plan, with detailed instructions for feeding your baby and optimizing breastfeeding. You will likely also be encouraged to reach out via secure messaging or phone with any questions you have between visits, so you and the lactation consultant can adjust your plan as needed. |
You've scheduled your video lactation consultation. What can you do to ensure you get the most out of the visit?
Prior to the day of the appointment
Ask your lactation consultant what platform you will be using, if you have not received any information. Make sure it is compatible with your computer or phone. If not, your lactation consultant will likely have an alternative platform you can use.
Make sure your WiFi is working well and has good reception where you will be holding the appointment.
Decide which equipment you want to use during the consultation. Whatever you use should have a working camera and microphone.
Phones can be helpful for getting in close so that the lactation consultant can get a good view of a baby's latch or certain anatomical features. It will be very helpful to have a helper to hold the phone during the video. Sometimes it may be harder for you to see the lactation consultant when using a phone.
Laptops are more stable, may be easier to use if you don't have a helper. A helper can still get close-up shots with a laptop, it just may feel a bit less precise than a phone.
Desktop computers aren't as easy for video consultations, but can also work in a pinch. You may want to take photos or videos of your latch or any areas of concern so you can easily show the lactation consultant what you are experiencing.
Think about taking videos or photos of any issues or concerns you have prior to the visit, in case it's hard to get a good view during the visit. For example, videos of you latching the baby, a snapshot of the baby's open mouth while crying, photos of nipples before or after feeding, etc.
Fill out any intake forms and sign consents. Your lactation consultant will likely send you a medical history form prior to the visit. Filling this out in advance will allow her to review your history and better prepare for your visit in advance.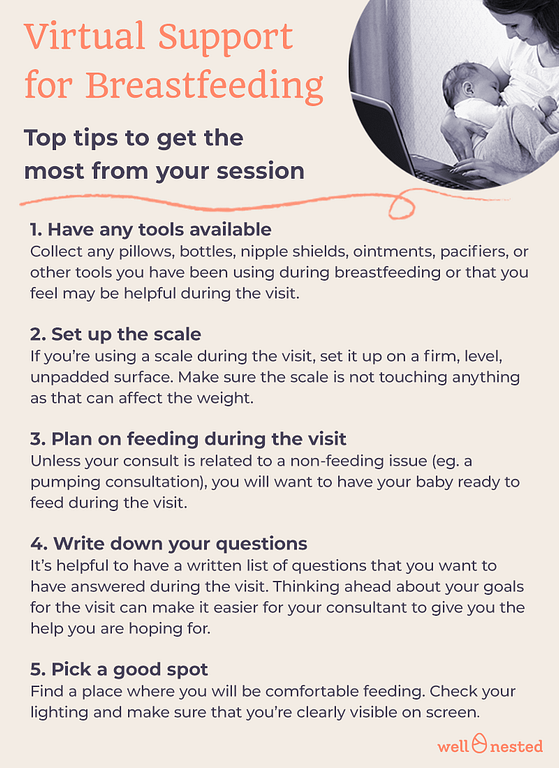 What about insurance coverage? Is Telemedicine covered?
Massachusetts is encouraging telemedicine by requiring insurance to cover telemedicine visits as if they were office visits. Lactation support has been a mandated service for any Affordable Care Act plan. It is seen as Women's Preventive Care, and coverage or reimbursement is required, with no copayments or deductibles allowed. (Cost-sharing is sometimes added if a portion of the visit is billed under the baby, but this is not common). Massachusetts and the Department of Labor have both made it very clear that insurers must cover lactation support for the entire time you are breastfeeding, and they must allow you to go out of network if they cannot provide you with a list of lactation consultation providers. For most Massachusetts insurers, this means they will cover any IBCLC (International Board Certified Lactation Consultant). We recommend calling your insurer to verify your coverage.
Are all breastfeeding supporters covered by insurance?
Not necessarily. The most commonly recognized credential for lactation is the IBCLC, or International Board Certified Lactation Consultant. An IBCLC is a highly trained lactation professional who provides clinical lactation support. In Massachusetts, most insurers recognize this international credential, and if they are covering lactation, they will cover an IBCLC. Here is a description of the various levels of breastfeeding support you may find. Again, it's always good to ask your insurer or contact a WellNested Specialist to help understand your benefit.
Helpful links:
Massachusetts Letter to Insurers Clarifying Their Responsibility to Cover Lactation Services
Federal Department of Labor Bulletin Clarifying Requirement to Cover Lactation Services
---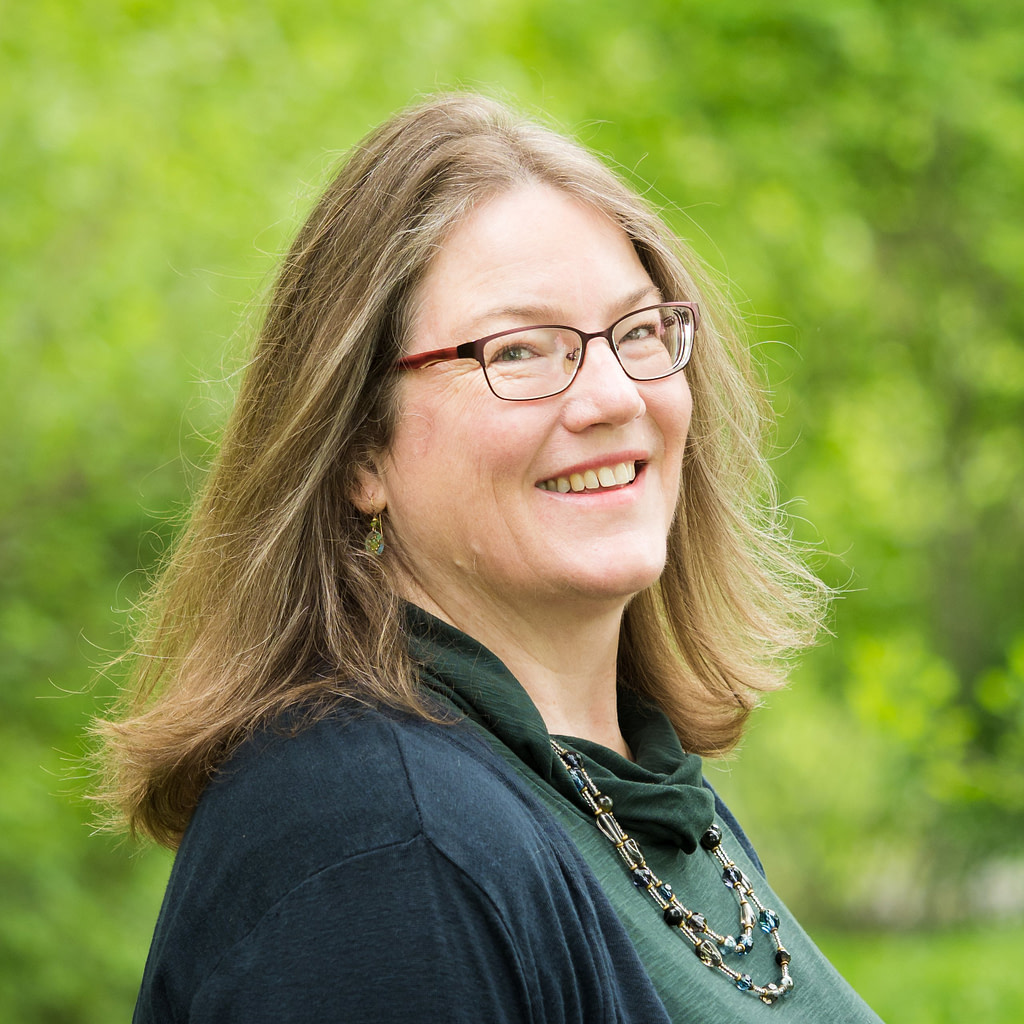 Heather Bingham, IBCLC is the owner of Boston Lactation, LLC. She has been supporting breastfeeding families in the Boston area since 2003, and a lactation consultant since 2008. She loves helping new parents achieve their breastfeeding goals, and finds home visits to be a wonderful way of doing this. Heather has transitioned to doing primarily virtual lactation consultation during the COVID-19 pandemic.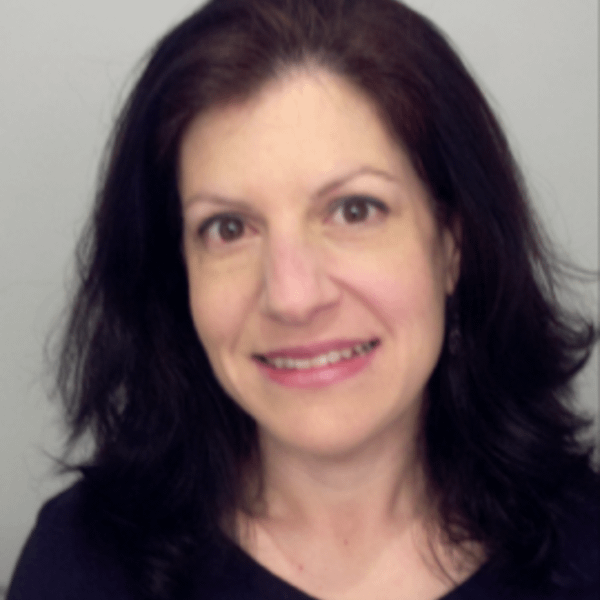 Jennifer B. Greenberg, M.Ed., IBCLC has been supporting breastfeeding families in the Greater Boston area since 2005, as a breastfeeding educator and certified postpartum doula. She's also been an International Board Certified Lactation Consultant since 2011. During the COVID-19 pandemic she is seeing clients for prenatal and postpartum virtual lactation consultations. Scale drop-off/pick-up is available. She offers non-judgemental support to families to help them achieve their feeding goals.